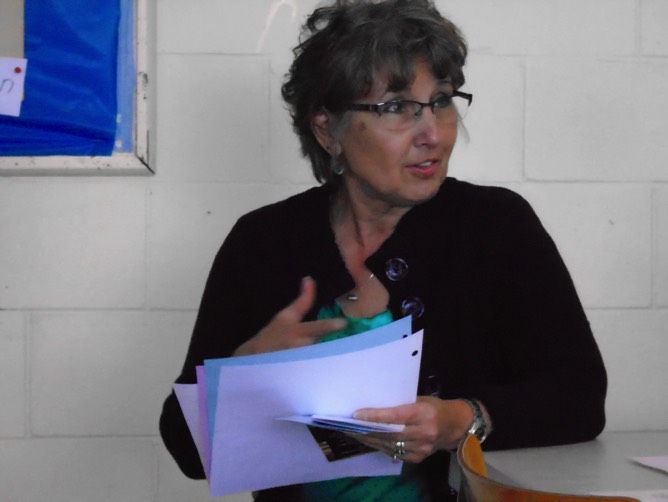 Anna briefs the chapter at the March 15 meeting on provincial developments.
Minutes of the March 15, 2016 meeting of the Tisdale Chapter of STS


Ten members and our provincial executive liaison, Anna, plus our guest speaker, Barb Baxter met in the Anglican Church Hall.

President Maureen welcomed everyone and introduced Barb Baxter to the group. Barb is the chair of fund raising for the House of Hope, the domestic abuse shelter and guidance centre for the North East.

The lodge had been close to being finished when it burned down. The insurance money came through and they are nearly finished the rebuild. It contains eight suites, a large common room and play area, and rooms for guidance sessions, offices and the store where the victims can pick out some clothing items for themselves and the children.

They hope to have people living there by the end of May with the grand opening at Thanksgiving. There is a great need for this as Saskatchewan has five times the number of victims of domestic violence than any other province and there is no other shelter in the north -east.

Maureen thanked Barbara for coming and sharing this message with us.

Business meeting followed. Minutes were approved as read.

Treasurer's report showed a bank balance of $1438.87 with $31.70 in cash-on-hand. Treasurer moved adoption of the report, seconded by Audrey.

Correspondence -

Esterhazy Chapter send an invitation to join them for a tour of the potash mines

the Funeral Group that spoke to us in the past reminded us about advance funeral planning.

Darlene received the updated chapter membership list with new members Sharon Hankins and Wendy Chatfield included. Chapter membership is now at 109.

We can send three delegates in the AGM: Maureen, Darlene, and Audrey volunteered at attend.

Anna then brought us up to date on the happenings at the provincial level.
Maureen mentioned that at the next meeting we would have to elect our officers for the coming year and no one has volunteered as yet. Members were urged to encourage anyone that they met to please volunteer. Anna and Lil volunteered to bring lunch for that meeting.
Moved by Timothy and seconded by Jeanette that we donate $500 and become Friends of the House of Hope. Carried. Individual members were welcome to also make donations to this as well as to the TMSS Scholarship Fund.
We then enjoyed the lunch donated by Val and Audrey. Lunch money collection was $25.50.
Before we left, we shovelled and pushed Doreen's car as she was stuck by the side of the church but we got her going again.
Sorry, I forgot to mention that Maureen has agreed to accept our nomination for her to receive HLM in the provincial STS. We will submit the nomination before February 1 next year.
Minutes of the February meeting of the Tisdale Chapter of STS


On Tuesday, February 16, Eleven members plus our provincial executive liaison, Anna, met at Calista's for lunch. A brief business meeting was held.

Moved by Jeanette, seconded by Bob that we nominate Maureen for Honourery Life time Member in the provincial STS next year. If she refuses this, we will offer her a Tisdale Chapter Award of Merit. Carried.

Moved by Judy, seconded by Audrey that we forward to our members the e-mail requesting volunteers to assist in filling out income tax forms for fixed and low income earners. Carried.

Anna left a few copies of a pamphlet "Engaging Candidates for the Next Provincial Election".

Following lunch, we went to the library where we were joined by a few others for a presentation on e-resources. Vice-President, Audrey, welcomed everyone and introduced Lindsay Baker, a Wapiti Library employee from Prince Albert. A copy of my notes from her presentation is attached.


ACCESSING E - RESOURCES


Go to Wapiti Regional Library and sign in.
User Name - bar code on your library card
Password - last 4 numbers of your telephone number
Click on topics from the banner:

HOOPLA - for movies, audio books, TV shows, music, comic books, e-books

Log in - same as above - search area of interest - when you find what you want click on title,

Borrow or Add to Favourites

(want it now) (can go back to it later)
Download

- movies you select will be available to you for three days and then they disappear
- e-books are available to you for 14 days

FLIPSTER - for magazines

Find what you want - click on magazine and it opens in your browser

You can go to the menu (on left upper corner) and download it if you want to.

It is available to you for 14 days.

Back issues (for one year) are also available.

NOTE: The helper is available in the library all day Monday and Friday and all evenings from 5:00 pm - 8:00 pm.

Minutes of the January meeting of the Tisdale Chapter of STS


Tisdale Chapter of STS members met in the Anglican Church hall on Tuesday, January 19, 2016 at 1:30 pm. President Maureen welcomed the eleven members that were present.

Minutes from the December social were declared approved as read. Everyone seemed pleased with all aspects of the social and Maureen thanked those members who had donated door prizes.

Treasurer report acceptance was moved by Darlene, seconded by Bob. Bank balance is $1,422.87 with $17.45 in cash on hand. A donation was given to the Tisdale Hospital in memory of Gwenne Degenstein.

Correspondence -


Maureen had the funeral card from Gwenne's funeral

end of year bank statement

receipt for bills paid for the Christmas social as well as the donation to the hospital.

Committee Reports
Ellen Lloyd's computer is not working so she has been moved to Doreen's phoning list.

Val reminded members to give their stamps to her.

The Legion contest judges were thanked for their work by committee head, Marlene Orban.

Delegates for the AGM will be needed soon so give this your consideration.
Suggested Resolutions prepared by Bob were discussed and with one small change, Val moved that they be accepted, seconded by Deanna. Darlene will submit them to the provincial office on behalf of the chapter.
Moved by Bob, seconded by Judy, that Associate chapter memberships will be accepted on payment of a fee equal to the chapter rebate for members. Carried.
Moved by Deanna, seconded by Audrey that Bob be nominated for HLM. He refused the nomination on the grounds that he didn't feel he had contributed enough for a provincial award. When we changed this to a Chapter Award, he agreed to accept that.
Next meeting will be a restaurant lunch (probably Calista's) and then adjourn to the library.

Maureen will try to make arrangements for Lindsay Baker to tell us about the new service available through the library. (Hoopla and Flipster).
Val and Audrey volunteered to bring lunch for the March 15 meeting.

Maureen declared the meeting adjourned. Thanks to Eileen and Doreen for the lunch.
Minutes of the December meeting of the Tisdale Chapter of STS


Seventy members of the Tisdale and Melfort Chapters of the Superannuated Teachers of Saskatchewan met at noon in the Golden Age Centre at Tisdale on Tuesday, December 1, 2015.

Following the welcome by the Mistress of Ceremonies, Audrey Adelman, vice-president of the Tisdale chapter, the first order of business was to enjoy the sumptuous turkey dinner prepared by Kristie MacDonald.

Throughout the afternoon door prizes were given out to many lucky winners so a lot of those present went home with what was likely their first gift of the Christmas season.

Much visiting took place as members and visitors shared news and a few laughs. The main entertainment was provided by about twenty members of The Singing Pines, a vocal group from Nipawin. Back up music was provided by a pianist, a guitarist, and a violinist. Everyone was encouraged to sing along on the familiar songs and the group also included some that were new to us. There was a great blending of voices and much enthusiasm in their performance so it certainly added to an afternoon of friendship and fellowship enjoyed by all.

Cost of the dinner was $15, paid by each person attending, plus $70 for the use of regular plates which was covered by the chapter. The chapter also covered the expense of the hall rental which was $225 and the fee for The Singing Pines which was $100. Two members of the Tisdale Chapter had requested the meal and then did not attend so they will have to pay for these meals as we had to pay for the number of meals that were ordered.

Our next chapter meeting will be held on Tuesday, January 19 at 1:30 pm in the Anglican Church Hall. Doreen and Eileen volunteered to provide the lunch.

We are still looking for chapter officers for next year. Please step up and volunteer to keep our chapter active.


STS Tisdale Chapter Minutes Meeting November 17, 2015


14 members met in the Anglican Church Hall at 1:30. President Maureen welcomed everyone.

Minutes of the last meeting were declared approved as read.

Treasurer's report showed a bank balance of $1912.63 with -$64.90 in cash on hand. Treasurer moved adoption of report, seconded by Val. Carried.

Correspondence - Tisdale Chapter membership list and number of members in each chapter received from the Saskatoon office along with the membership rebate cheque.

Committee Reports - cards were sent to Tim and Kate McCorriston

Birthday Tea will be at New Market Place on the third Wednesday in May.

Legion judging will be done tomorrow at 1:30 in the Legion Club Rooms.

Maureen asked if anyone would like to accompany her to present Jean Brownridge with flowers for her 30 year membership award.

Christmas Social Details

Caterer is Kristy McDonald. $15 per person.

Entertainment is The Singing Pines from Nipawin for $100.

MC will be Audrey Adelman.

Cost of rental of the Golden Age Centre is $250.

Members are asked to bring door prizes

Those who can are asked to come at 11 am to set up tables.

Maureen reported on the Presidents Meeting in Saskatoon

We are one of the more active chapters.

Topics covered - resolutions - Bob will prepare one on the drug costs, names printed on ID cards, and Maureen requested one on rules for Associate Members.
She mentioned that we had not hosted any recreational activities for years and perhaps we should look at that.
Benefits Plan - shop around for the lowest dispensing fees. Pneumonia and shingles shots were discussed.
STF will be hosting their retirement meetings.
Please let the office know if you are willing to receive your Outreach by e-mail as this greatly reduces the cost.
Advocacy Committee is working on a brochure of issues for the provincial election.
Challenges for Chapter Presidents - succession problems - perhaps meetings in other area of the district.
Next meeting after the Christmas Social will be January 19th. Perhaps a speaker. Lunch- Doreen and Eileen. There was no committee for lunch for this meeting so Maureen picked up some. Maureen declared the meeting adjourned. Lunch and socialization followed.
STS Tisdale Chapter Minutes Meeting October 19, 2015

Held in United Church basement sixteen members present.

Three guests present - Provincial President Doug and Cheryl Haroldson and Executive Liaison Anna Wehrkamp.

President Maureen welcomed everyone - special welcome to our guests.

After we enjoyed the pizza and salad and some socialising, Maureen called the meeting to order.

We have a new member Sharon Hankins and we welcome her to our chapter.

Darlene presented the treasurer's report - Bank balance is $1088.36 and we have $76.10 in cash on hand. However, we owe Darlene $180 for the awards purchased recently. There should be some money from the lunch today. Treasurer moved adoption of report, seconded by Jeanette. Carried.

Doug Haroldson presented the awards for this year to members who were present; key fobs for twenty years of membership to Doreen Bush, Ellen Lloyd, and Jeanette Larsen.

Maureen then introduced Doug and he gave his presentation mentioning the following topics:

membership is now 10,888,

almost 7,000 are members of the benefits plans,

clean audit for last year,

challenge of benefit plan is the cost of the claims of the travel insurance, no increase in premiums for three years, as of January 1, 2016 the paramedical benefits will be increased from $350 to $500,

format of resolutions,

recreational activities,

Chapter Activity Support Program,

advocacy,

President's meeting in set for October 28 in Saskatoon,

Councillors will be attending STF Councillors Conference October 29 -31,

retirement lifestyles planning seminars will be held in Prince Albert, Swift Current, and Estevan this year.

He also reminded us about:

Sixty day window to join Extended Health plan,

Sixty-five day travel insurance,

if you wish to receive Outreach online, e-mail the office,

nominations for HLM, and AGM delegates.

Doug capably answered questions on these topics as well as others. Maureen thanked Doug and presented him with a gift of honey from the chapter.
Note: before Doug began his formal presentation, he had a special mention of Leila Rooke for her 33 years of membership, HLM Darlene, and Bob Donnan for the newsletter which he stated was one of the best ones produced by chapters.
SUPERANNUATES OUT FOR BRUNCH

September 1, 2015, the first day that students returned to classes, found the members of the Tisdale Chapter of Superannuated Teachers enjoying a buffet brunch at the Riverside Golf Course Lounge.

President Maureen Donald welcomed everyone with a special welcome to three new members: Carmen Roy, Sherry Gerwing, and Helen Gress. She thanked Darlene, Audrey, Bob, Deanna and Tim for their help in the past year. A memorial donation of $50 was given to the Tisdale Hospital in memory of member Anne McIntosh so Maureen asked for a moment of silence to think about her and other members that are facing difficult times.

Maureen passed out the diaries that had been requested by some members.

Marlene Orban volunteered to head the judging committee for the Legion contests. Peggy, Therese, Audrey, Dennis and Denise volunteered to be judges.

Maureen has booked the Golden Age Centre for December 1 for our Christmas Social. We will invite Melfort Chapter to join us for this. Suggestion for entertainment was a singing group from Nipawin.

Maureen also reminded members that our next meeting will be when the Provincial STS President visits our chapter on October 19. We have planned a pizza and salad lunch with the president for that day.

Secretary- Treasurer, Darlene McCullough, then shared some comments regarding the charitable donations, the financial report, and a plea for volunteers to take over the officer positions next year so that Tisdale STS can remain as one of the most active STS chapters in the province.

Our Chapter received another award for a ten per cent membership growth and that has been added to the third row of the stand for the bell.

Moved by Suzanne, seconded by Steve that we have the To Hell with the Bell Gathering at 10:45 am. Carried.

Suggestions for outings were a visit and meal at Ohma's Kitchen and a houseboat ride at Nipawin Regional Park.

Marlene Orbin suggested a charitable donation that we might be interested in: backpacks filled with school supplies for needy families.

Maureen declared the meeting adjourned and more socialising took place before members left the lounge. Thanks to the staff there for providing the opportunity for us to meet in the lounge and enjoy the food they prepared for us.
March 17, 2015



Sixteen members and one guest gathered in the Anglican Church hall on Tuesday, March 17. In the absence of President Maureen Donald, Vice-President Audrey Adelman chaired the meeting and welcomed everyone. Val Furber shared some St. Patrick's Day and Easter thoughts.

Minutes of the last meetings were declared adopted as read.

Treasurer's report showed a bank balance of $1694.78 with $138.19 in Cash on Hand. $50 was donated to the Tisdale Hospital in memory of Anne McIntosh. Treasurer moved adoption of report, seconded by Val Furber. Carried.

Correspondence - An updated membership list was received from the office with a rebate cheque for $8 for a new membership. However, it was from a superannuate from Melfort.

Committee Reports:

Phoning - Vivian McGuire's name has been removed from the phoning list as she has moved to Newmarket Manor.

Cards were sent to Netha Partmentier as she fell and fractured her arm and a sympathy card was sent to the McIntosh family. Bob reported that Larry Salamon is still in the hospital.

Tim Shire reported that he had a promise for seven yearbooks to be put on the yearbook website.

A reminder to complete those career biographies was passed on.

Individual donations were collected for the Aid to Central America and TMSS Scholarship Fund.

No chapter donation to Aid to Central America was discussed as the treasurer will wait until next month before sending these in as there may be other members who would to donate.

There were no other members present who would attend the AGM so at this point we only have Maureen Donald and Darlene McCullough and we are allowed three delegates.

No suggestions were forthcoming for a breakfast meeting site for the April meeting. Yvonne Smelt has advertised for a person to lease her business for six months due to medical issues so it would seem that this would not work for April but perhaps for June.

Members were reminded to bring their copies of the resolutions to the April meeting as these will be discussed then. Audrey Adelman declared the business meeting adjourned.

Darlene McCullough then gave a brief outline about Maui and some interesting facts of her vacation there. Members then picked up their tea or coffee and some goodies supplied by Denise Lalonde and Audrey Adelman. Once people were seated again Darlene projected her photos from the vacation with a short commentary about them.. She also had brought some souvenirs and these were displayed on a couple of tables so people could have a look at them.
January 20, 2015


Eleven members of the Tisdale Chapter of STS met in the Anglican Church Hall at 1:30 for the January 20 meeting. President Maureen welcomed everyone and reminded them that there were extra forms available so that they could begin work on the career biographies that the Chapter is hoping to collect.

Minutes of the Nov meeting and the Christmas Social were declared approved as read.

Business arising from the minutes:


- any ideas for project needing funding? - no suggestions were forthcoming

- quilt raffle donation by Netha for the McDowell Foundation - note of thanks from Elaine Broughton - Netha refuses to take any money even for the materials used - thanks Netha for that great donation to a good cause

- correspondence - letter from George Gorget thanking Maureen for responding so quickly with the suggestions of concerns that our members discussed as items that should be brought to the attention of persons running for positions in the upcoming election

- Financial report - bank balance of $1686.51 with $167.59 in cash on hand. Committee Reports

- Legion sent individual thank you cards to the members who judged the contest entries

- Debbie reported that she had sent cards to Gwen Degenstein, Ellen Lloyd and Larry Salamon.
Jeanette reported that the February birthday tea at Newmarket was to be held onWednesday, February 18. Bev, Denise, Eileen and Netha volunteered to donate the white cakes required and Jeanette and Lillian will look after the ice cream and strawberries. Tea will be held in Cottage C so go in the East door. Helpers are asked to be there by 2 pm.
Tim Shire informed the members that he had posted the 45-46 Tisdale High School yearbook on our web site. Other yearbooks submitted will be added.

Next meeting will be held on Tuesday, February 17 with lunch at Caleb Village and a tour to follow. Parking is on the East side of the building.

Thanks to Eileen and Maureen for the lunch for this meeting. Denise volunteered to bring lunch for the March meeting.

Darlene reminded members that charitable donations could be handed in at any meeting if they are unsure about their attendance at the next two meetings.

Tim and Judy shared photos of the Indigenous Games showing a lot of determined athletes having loads of fun which was great to see.